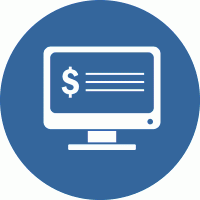 Online Banking
Access your State Bank of Bern accounts via the Internet every hour of the day, every day of the week, with our Online Banking system. If you have a checking or savings account with us, you are eligible to enroll for Online Banking, and you can do it online. If you do not have an account with us, please stop by the bank and we will be glad to assist you. Online Banking services are subject to enrollment approval.
With our Online Banking system, you can:
Access all of the accounts with the bank for which you are an owner or signer.
Review account balances and activity 24 hours per day.
View NOW, checking and savings account statement activity to see deposits, cleared checks, withdrawals, ATM/Debit Card and ACH transactions.
View images of checks, withdrawals and deposits. View 5 images or fewer for the month to avoid a per image retrieval fee.
Download account transactions to financial software and spreadsheets.
Transfer money from NOW or checking accounts to savings accounts or vice versa.
Make payments to your loans with us from your NOW, checking or savings account.