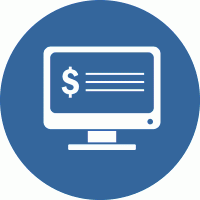 Online Banking
Access your State Bank of Bern accounts via the Internet every hour of the day, every day of the week, with our Online Banking system. If you have a checking or savings account with us, you are eligible to enroll for Online Banking, and you can do it online. If you do not have an account with us, please stop by the bank and we will be glad to assist you. Online Banking services are subject to enrollment approval.
With our New Online Banking system, you will experience:
A fresh new look that makes online banking even easier to use
Secure access to all of your accounts with our bank which you are an owner or signer.
Review account balances and activity 24 hours per day.
View NOW, checking, and savings account statement activity to see deposits, cleared checks, withdrawals, ATM/Debit Card and ACH transactions.
View images of checks, withdrawals, and deposits.
Download account transactions to financial software and spreadsheets.
Quick transfer money immediately or schedule a transfer from NOW or checking accounts to savings accounts or vice versa.
Make payments to your loans with us from your NOW, checking, or savings account.
Click the "Enroll or Login" button to get started. You will be taken to our login page. Please use the Create New Profile option to enroll into online banking. If you are an existing online banking customer that has not linked their online banking profile yet, please use the Link Existing Profile option first.
***Be sure to practice safe online banking by following the guidelines on our SAFE ONLINE BANKING page.